GET BACK IN THE GAME WITH POOL TABLE REPAIR
Timely, Dependable, & Affordable Pool Table Repair
BRING BACK THE FUN WITH OUR POOL TABLE REPAIR SERVICES
Things happen with pool tables from time to time. Depending on the actual problem, you could find yourself not playing a single game for the foreseeable future. That's why we suggest turning to the professionals at Extreme Billiards Indy for comprehensive pool table repair. Whether your table needs a simple fix or more extensive repairs, you can count on our experienced team to get the job done right the first time. Don't make the mistake of hiring just anyone to work on your pool table — contact Extreme Billiards today!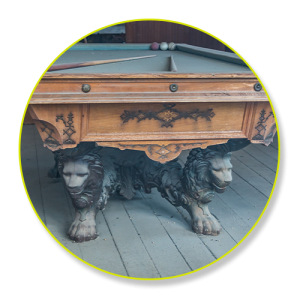 Why Choose Extreme Billiards Indy?
More Than 25 Years Of Industry Experience
Extensive Product Selection
Second-To-None Precision Leveling And Craftsmanship
Complete Transparency
Certified, Insured, And Bonded
It's nearly impossible to keep your pool table in tip-top shape all the time. But what happens when your table becomes damaged and, as a result, unplayable? Rather than risk damaging the table further or forget about one of your passions altogether, we suggest contacting the skilled team at Extreme Billiards Indy for pool table repair.
Our passion for billiards is evident the moment you reach us. Backed by several decades of experience, it's safe to say we know a thing or two about pool tables. Not only can we bring yours back to life with recovery services, but we also offer precision leveling for your convenience.
It's our hope that your table will look as good as new once we're done. Have concerns about how our staff will handle your pool table? Not to worry, as Extreme Billiards treats every table as if it were our own.
See for yourself what makes us the leaders in pool table repair. Contact Extreme Billiards Indy today!